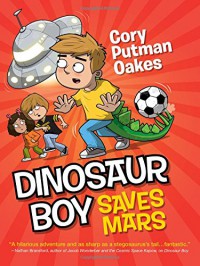 We received this book to give an honest review.
K and I have enjoyed reading about Dinosaur boy. We started reading a chapter a night as the chapters were pretty long and so we wouldn't be able to read it all in one night.
Sawyer's grandfather makes a grand entrance to his school and enlisted not only his help but the help of Sylvia and Elliot to find Sylvia's father. He has gone missing.
While trying to find him they realize that there is more going on in space as there is a big soccer game coming up. With this game there is also talk of banning the pultonians from the Intergalactic Soccer Federation which is causing quite a stir.
We get a lot of adventure with Sawyer and his friends as they find out what really happened to Sylvia's dad and they try to save the day before both the plutonians and martians collide. We also get to learn a bit more about Sylvia in this one and how everyone on Mars really knows her which was really cool.
Not only are they dealing with all this but Sawyer has to find his passion for a paper he has to write at school. This led to a discussion with K on what his passion was. I really liked how the author included how people feel when they are left out of things and seem to be different than those around them.
Will this trio save the day before things happen that can not be reversed or will the ones trying to bring everything down win?
K liked the book because of the soccer and thought it was neat that the martians and plutonians got to play soccer in space. He also wondered if there would ever truly be a cure to changing Sawyer back to a boy.
He did wish there were pictures in this book to help him know what everyone looked like. I told him well this is a chapter book and you are meant to use your imagination.
When asked what was his favorite he responded with he didn't have just a favorite he liked it all. Though the soccer game was the best.
Can't wait to see what other things will be going on with this trio in the future.